Bakery supplier celebrates 100 years
PITTSBURGH (AP)
A century ago, the Byrnes & Kiefer company supplied neighborhood bakeries with flour, molasses and other ingredients so they could make cakes, pies and other baked goods.
How things have changed.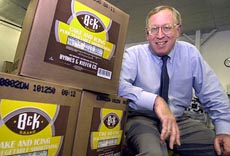 "Our customers used to buy flour and milk powder, and now, they want to buy the eclair already iced," said Edward G. Byrnes Jr., the company's chief executive officer and grandson of its founder.
Adapting to changing demands has helped the company stay around to see its centennial this month. Along the way, it has evolved into a $12 million enterprise that supplies baked goods and mixes to supermarket bakeries and mixes for Eat'n Park restaurants.
The company realized it needed to diversify soon after Byrnes started running the company. The city's steel mills were beginning to shut down, as did many of the mom-and-pop bakeries that relied on mill workers to buy doughnuts and other sweets.
"Those guys could burn 2,000 calories in a morning," Byrnes said.The company began diversifying by buying Reymer's Blennd, a regionally popular soft drink, from H.J. Heinz Co. in 1979.
"I was looking for a summer product because people don't eat as many baked goods in the summer," said Byrnes. Blennd added about $1 million in sales during the summer for the company.
In 1997, Byrnes & Kiefer completed one of its biggest acquisitions when it bought Charlie's Specialties, a company that makes frozen specialty cookies, brownies and dumplings distributed to supermarkets.
Byrnes & Kiefer now employs 100 workers, bumping closer to 150 during the peak holiday baking season. It moved 10 years ago from Pittsburgh to Callery, where raspberry and apricot fillings simmer in 4,000-pound kettles.
Another kettle holds 2,000 pounds of white icing for Eat'n Park's trademark smiley-face cookies.
Byrnes, 61, has passed up offers to sell the company and is planning to pass it on to his children.
As for Kiefer?
That's the name of an accountant who teamed up with founder E.C. Byrnes, but sold his minority share in 1908. The name stuck, which has its benefits.
When Byrnes wants to stall someone on a decision, "I just say I have to check with Kiefer."
This article appeared in the Dominion Post Newspaper on May 10, 2002.